PrescribeIT® is changing how healthcare professionals communicate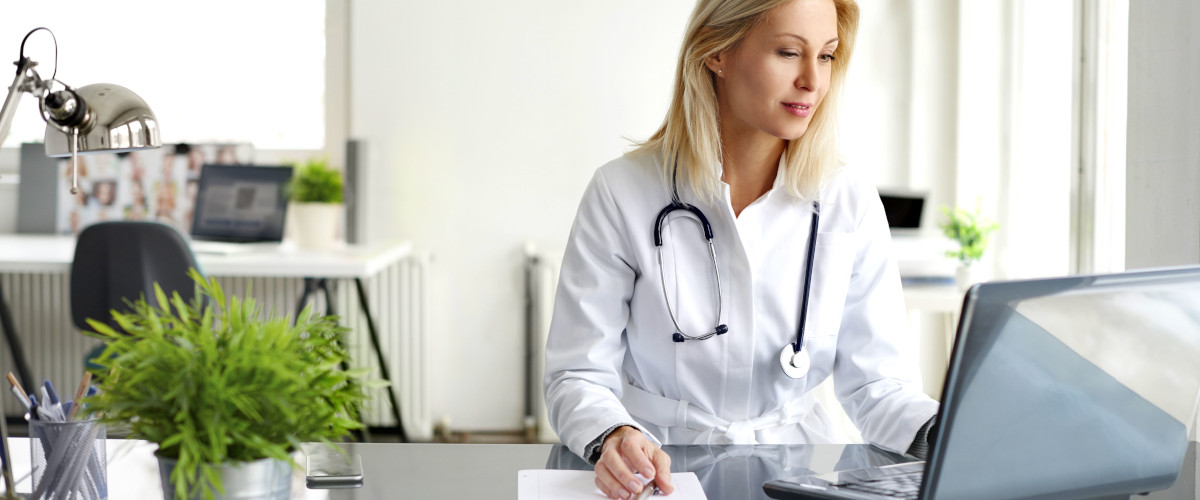 From improving patient satisfaction to maintaining continuity of care, communication is vital to the practice of medicine — yet there are many barriers preventing clear and efficient communication between healthcare professionals.
Take prescriptions, for example. The process has long relied on phones and fax machines, which are ill-suited to busy clinic environments. The back and forth between physicians and pharmacists can take up hours of time, increase the potential for error, and pose an inconvenience for patients.
The good news is that better options are emerging. New technologies are reimagining how care is delivered, making communication easier and providing countless benefits as a result.
A game-changing tool.
PrescribeIT® is one of these technologies. Offered by Canada Health Infoway, the e-prescribing service is designed to make prescriptions and renewals one of the easiest parts of a physician's day. By integrating electronic medical records (EMRs) with pharmacy management systems, it helps open and strengthen the lines of communication between physicians and pharmacists.
A growing number of physicians have already caught on to the power of PrescribeIT®. In fact, more than 4,400 Canadian physicians and over 3,150 pharmacies are using it.
The power of PrescribeIT®.
Using PrescribeIT® benefits physicians, pharmacists, and patients in myriad ways:
Increasing efficiency.
One of the many advantages of PrescribeIT® is that it can help make prescribing more efficient: physicians can send prescriptions, manage renewal requests, and share important patient information with a few quick clicks in their EMR. That information gets sent directly to a pharmacy, eliminating phone tag and time-consuming faxes.
PrescribeIT® also reduces the need to transcribe handwritten prescriptions, help prevent transcription errors and fraud.
Connecting healthcare professionals.
PrescribeIT® can help break down silos and increase collaboration among physicians and pharmacists. Using its encrypted direct messaging capabilities, healthcare professionals can seamlessly clarify questions and align on patient medication therapy. Not only does this help ensure that patients receive their medication in a timely manner, it can also help prevent potentially harmful drug interactions.
Improving patient experiences.
The tool is designed to help create a better experience for patients, too. For example, PrescribeIT® gives physicians the option to provide a paper prescription that contains a barcode, which can then be scanned at a patient's pharmacy — meaning the patient can choose where to pick up their medications at a later time.
In addition, physicians can use the time PrescribeIT® saves deepening their relationship with patients, which can ultimately help increase patient satisfaction and contribute to better health outcomes.
Given these benefits, it should be little surprise that a Canada Health Infoway survey found that 81.7% of patients are interested in having a prescription sent directly to their pharmacy by their physician.
Getting started with PrescribeIT
®
.
If you're interested in learning how to leverage PrescribeIT® in your practice, there are a number of useful resources available:
This

video

offers a quick overview of the solution, and explains how it can be used to send e-prescriptions and manage renewals.

In this

webinar

, TELUS Health experts provide an in-depth demonstration of the platform. Watch to learn how to send prescriptions, treatment dispense notifications, and more.

PrescribeIT®'s

Ask a Peer

program lets healthcare professionals learn about the solution directly from those who are using it. Simply submit any question and receive answers from physicians, pharmacists, and nurse practitioners. Prescribers can also search through answers to questions that have already been asked by industry peers.
The future of prescribing is here.
Communication is central to the delivery of quality healthcare, and tools like PrescribeIT® are helping enable better collaboration between pharmacists and physicians. From helping to save time on tedious tasks to making medication management safe, tools like this are helping create better healthcare experiences for both physicians and patients.
Learn more about PrescribeIT®, and subscribe to the Physician Pulse for more insights about the latest health tools.