Virtual care for COVID-19 keeping Torontonians safer at home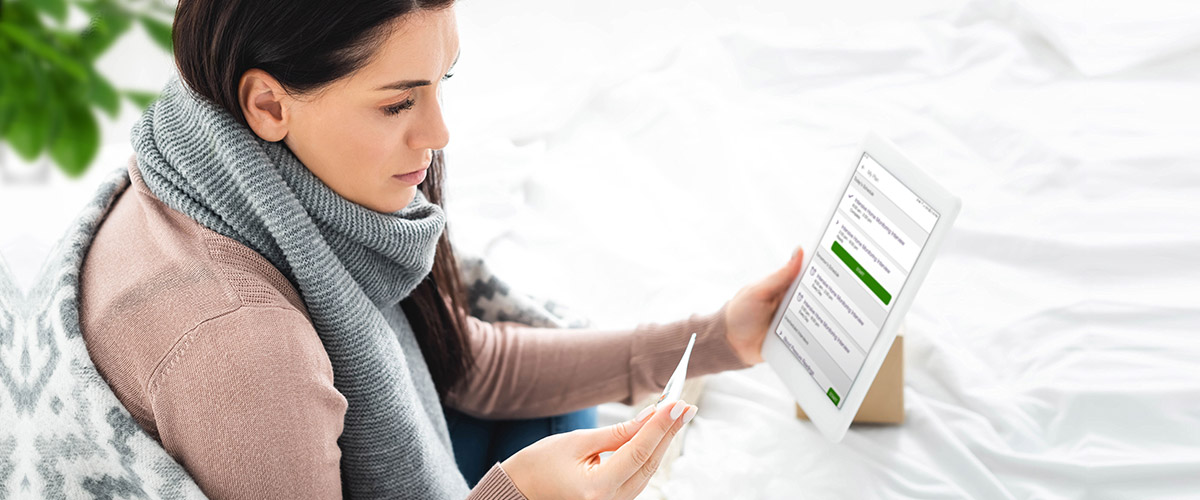 Staying home can be the best strategy for dealing with both the risk and symptoms of COVID-19. But when we're feeling sick or worried, we usually head out to seek care.
A TELUS Health online self-assessment tool is helping Torontonians solve this problem.
Since its launch in April, COVID19Toronto.ca has helped over 48,000 people evaluate their own condition and get personalized guidance on next steps, whether self-isolation, a virtual nurse's appointment, or an emergency visit––all from the comfort and safety of their homes.
By remotely assessing and screening potential cases of COVID-19 based on the latest provincial guidelines, the solution has kept people who do not need urgent care safer at home while helping alleviate some of the strain on the city's public health services.
In July, TELUS Health added its Home Health Monitoring (HHM) technology to COVID19Toronto.ca.
Through the two-week HHM program in English or French, eligible low to medium risk patients log into the COVID-19 clinician-monitored application on their own device and use a thermometer to send in their daily temperature and health assessment. Monitoring teams in local hospitals, doctors' offices and clinics can respond to patient needs earlier, helping prevent deterioration in patient health and hospital visits.
Patients using HHM have found it reassuring to be able to stay home1 while a nurse supports, advises and monitors their symptoms remotely. HHM also allows nurses to manage a larger number of patients at one time.
Similar HHM programs powered by TELUS Health in British Columbia have reduced hospital admissions, saved healthcare costs, and improved experiences and quality of life for patients living with chronic diseases such as diabetes, heart failure, and respiratory disease.2 B.C. is now using HHM for COVID-19 patient tracking and support.
Canadians are rallying together in an unprecedented collective effort to overcome this crisis. TELUS Health is proud to support the bold leadership and new thinking across sectors that will unite and strengthen the Canadian healthcare system.
Visit COVID19Toronto.ca and speak to a nurse about Home Health Monitoring.
Island Health Authority in BC (March 1, 2018) Evaluation of the Home Health Monitoring Expansion Project
The post Virtual care for COVID-19 keeping Torontonians safer at home. appeared first on Physician Pulse.